A Peaceful Respite
Amala Villas Ubud is situated on 3,000 square metres of land between the villages of Sebali and Keliki, overlooking the river Wos on the edge of a ridge surrounded by paddy fields.
The Villa
Amala Villas Ubud is comprised of three houses, the Main House, Valley House and North House. Located at the Main House is a living room, the kitchen, and a master guest room named Bodhi. The North House shelters a second master named Kendal and the billiards lounge. The Valley House contains the dining room, karaoke/media room and three other rooms named Wani, Arbesia and Jarak.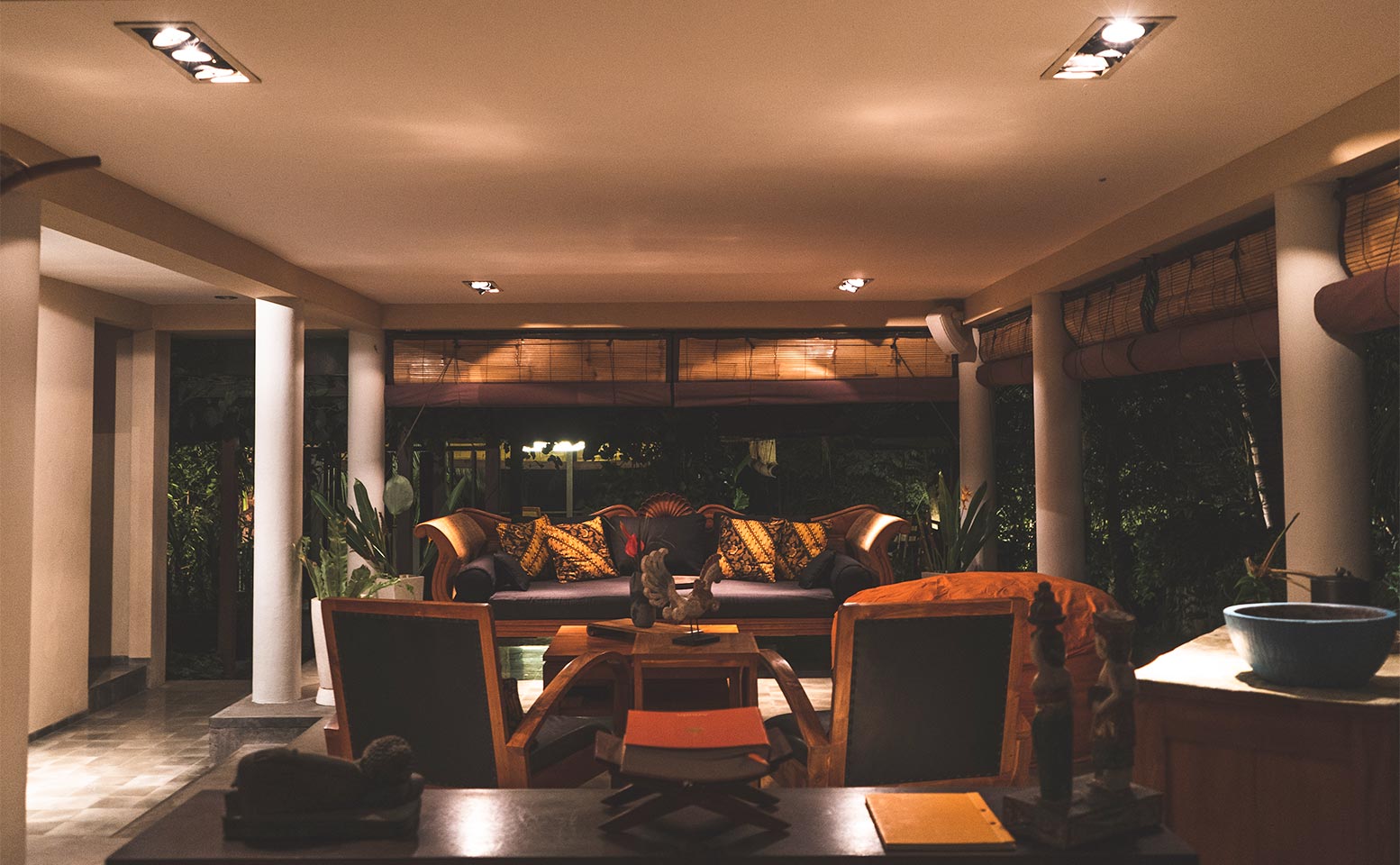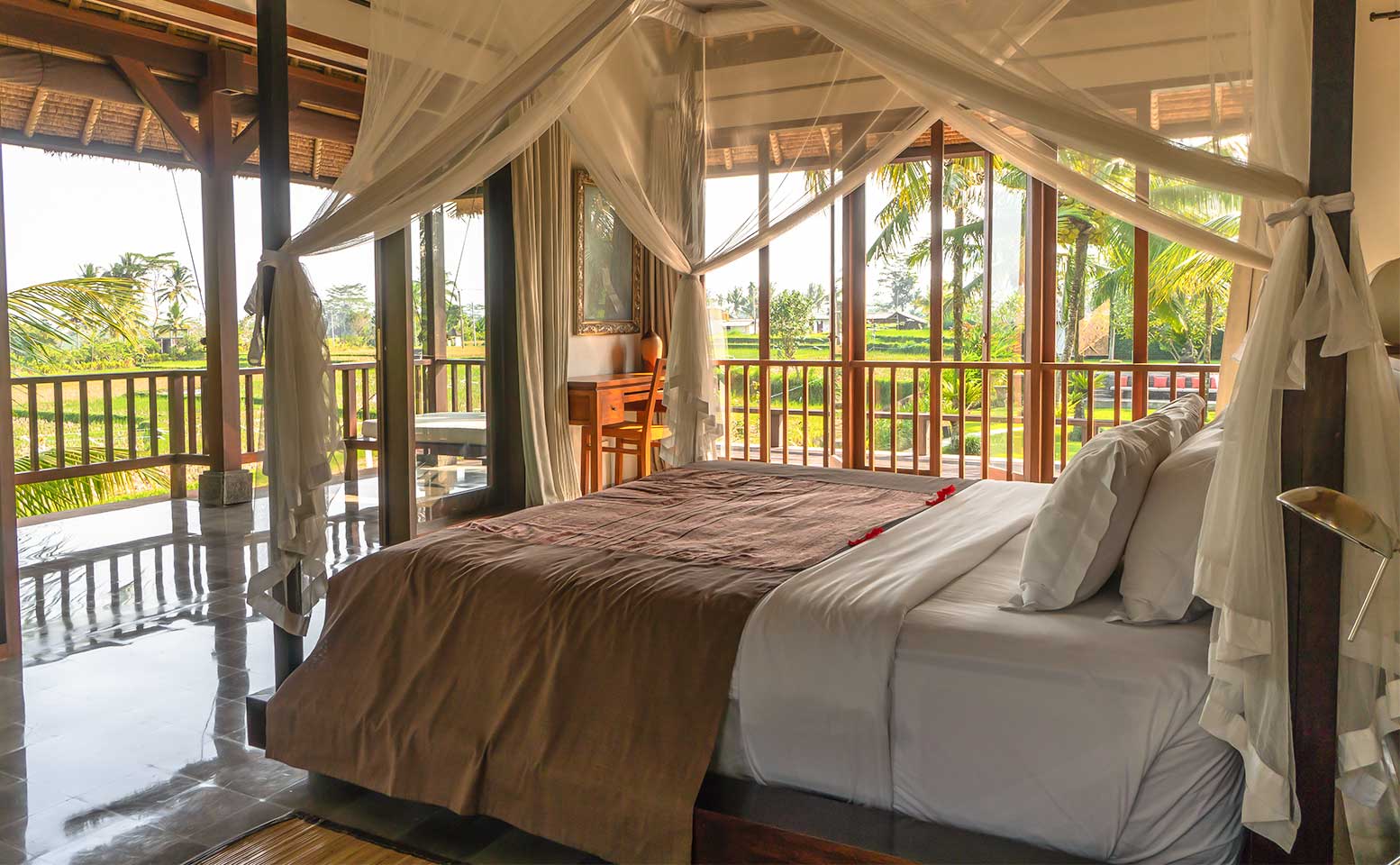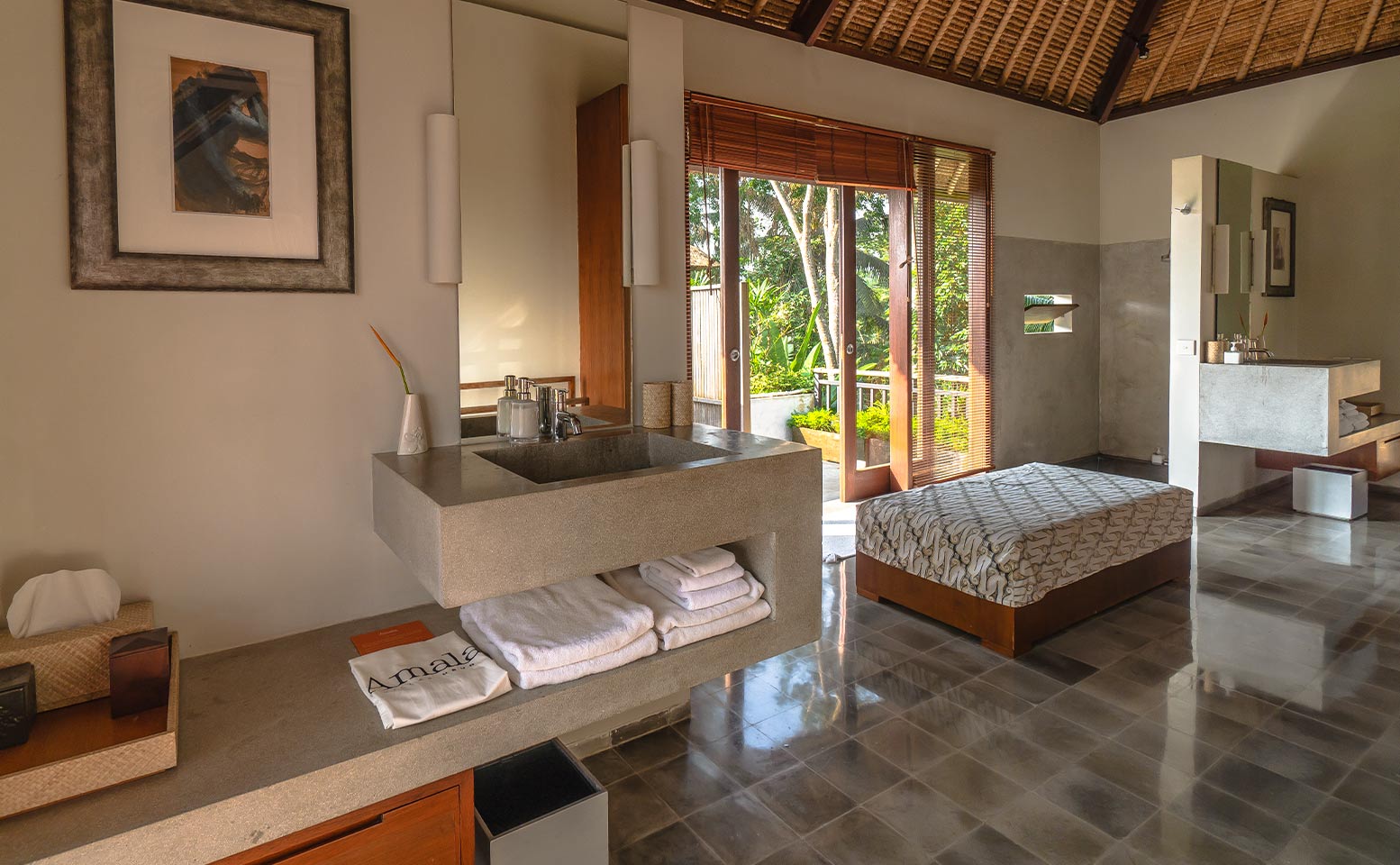 Amala Villas Ubud Bedrooms
Bodhi
A very spacious king bedroom
Located at the top level of the Main House
Overlooking paddy fields and the pool.
Its en suite bathroom is spacious with an ottoman, bathtub,
An indoor shower and an outdoor shower on the terrace.
Air-conditioning available.
Jarak
A queen bedroom
Located at the bottommost level of the Valley House.
Overlooks a lush garden.
Its en suite bathroom has a bathtub,
An indoor shower, and an outdoor shower in its own private garden.
Air-conditioning available.
Kendal
A queen bedroom
Located at the second level of the North House
A balcony that overlooks the lush valley.
Luxuriously furnished and fitted with a study desk and a TV lift,
Its en suite bathroom boasts a bidet toilet, dual sinks, and a ceiling mounted rain shower.
Air-conditioning available.
Wani
King/twin bedroom
Located at the middle level of the Valley House.
A balcony with views of lush surroundings.
Its ensuite bathroom has a bathtub and a separate shower.
Air-conditioning available.
Arbesia
King/twin bedroom
Located at the middle level of the Valley House.
A balcony with views of lush surroundings.
Its ensuite bathroom has a bathtub and a separate shower.
Air-conditioning available.
Delight in Amala
Indulge in unparalleled luxury and comfort at Amala Villas Ubud, located in the serene and picturesque area of Ubud, Bali. Our delightful home offers ultimate comfort and indulgence in a tranquil setting surrounded by lush greenery. The perfect spot for your next retreat. Contact us to learn more.
Enquire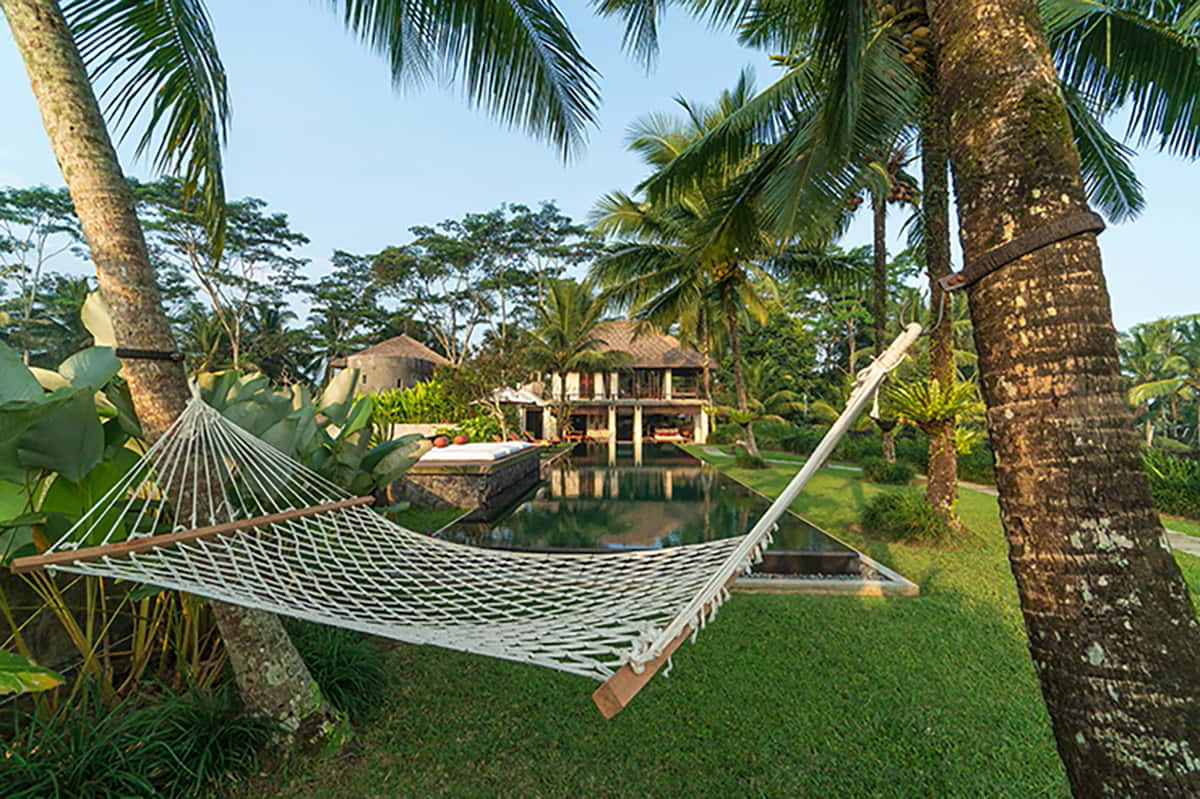 Quick Facts
| | |
| --- | --- |
| Location | Jl. Raya Sebali, Keliki, Ubud, Gianyar Regency, Bali 80571 (Map) |
| Capacity | 10 adults (5 bedrooms: 1 with king-sized beds, 2 with queen-sized beds and 2 King/twins) |
| Living areas | Living room; Enjoy private access to the 3000m2 villa's facilities and common areas. |
| Pool | Swimming pool 20m x 5m x 2m |
| Staff | Rest easy with an attentive and hospitable team at your service. Butler, Concierge, housekeeping, and service staff. Additional staff such as nanny/babysitter, masseuse, and Yoga instructor are available on request at extra charge. |
| Breakfast | Continental breakfast service is available from 7 to 11 AM |
| Dining | Cooks are available to prepare and serve all meals at the villa. Guests only need to pay for their groceries |
| Communication | Complimentary WiFi in all areas |
| In Room Amenities | Safety Box, Hairdryers, Shampoo, Conditioner, Shower Gel, Smart Television, Fresh Towel, Wardrobe |
| Entertainment | Guests have access to a library with a selection of books, magazines and media players. The media room offers karaoke and a large television streaming content from the popular platforms. A lounge is equipped with a billiards table for guests to engage in some friendly competition. |
| For families | With the right care and attention, Amala is rather suitable for families with children of all ages. However, high chairs, cots, sterilisers and so on are available upon request and at rental rates. |
| Safety & Security | First-aid kit, fire extinguishers, safe boxes and security personnel |
| Airport Transport | Up to two cars and drivers before check-in and after check-out can easily be arranged with your villa manager. (included in the rate) |
| Daily Transport | One car and driver for up to 8 hours per day. (included in the rate) |
| Additional facilities | Massage beds, barbecue, table-tennis and others. Please enquire. |
| Property area | 3,000sqm (land). |
Rates & Availability
Availability
Rates
| | | |
| --- | --- | --- |
| Season | Minimum stay | Price |
| Low season & High season | 2 nights | Rp. 20,000,000 / night |
---
Need to Know

Minimum stay: 2 nights
Rates inclusive of 15.5% VAT and service charge
Full payment is required to confirm booking
Check-in time: 3 pm / Check-out time: 12 noon
Late check-outs until 6 pm can be arranged at half the rental rate (subject to availability)
For booking within the next 30 days please enquire for availability
Instant booking available only 30 days upwards.
Reviews
Stylish villa, great hospitality
Our family has holidayed at Amala Villas for several years now and it has never disappointed. It's setting in the middle of the padi fields is a big draw, but mainly the staff are really great. They are so friendly and kind, everytime we come here we feel like we are coming home. Food is great, especially the classic Indonesian dishes.
The addition of a new wing is interesting, it has been seamlessly incorporated into the rest of the existing building.
The place is great if you have a big group or family it's large enough that each person can have their own privacy but also if you need to retreat you can go into your own space. Most importantly it's very clean and well-appointed.
We always feel we never want to leave when it's time to say farewell to the staff here, and we look forward to returning.
Amazing Villa. I could come back every year.
Superb villa very close to Ubud. It is well located with rice fields on one side and the jungle on the other. It is composed of 6 real bedrooms, each with their own bathroom. The common areas are large and well laid out, including a pool table and a karaoke room. We were 13 in the house, and the house lives well on a daily basis. The team in charge of the house is really nice, very professional and attentive to all your requests. They knew how to concoct very good dishes for us! A shuttle is at your disposal and really practical. Made will take you to visit all the corners of the surroundings. There is also a swimming pool, very appreciable after walking all morning in the humidity of the Monkey Forest or after returning from your getaway on Mount Batur!
Beautiful tranquil 5 bedroom villas set in the middle of the rice terraces. Friendly staff with excellent food. Place for rest, meditation, recharge the body. Highly recommended.